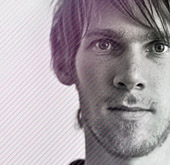 ONDREJ is an international Dj and label head of KUMQUAT rec. from Switzerland. Originating from Prague (Czech Rep.) but considering himself as "a son of Zurich: Mecca of clubbing and source of inspiration". When Switzerland swept up in the first techno-wave in the 90s, Ondrej took his first steps at mixing. Soon he was noticed by most important promoters of Switzerland and has performed in spectacular festivals.

Renowned by his impeccable technique of mixing, which keeps a constant tension in the dance floor, Ondrej is an obsessive researcher of new sound and every set is a varied expression: atmospheric or hypnotic, deep or sensitive upon his mood: but unique ones, without rules or limits. Indeed a set of Ondrej is an amalgam of House and Techno varying the genres upon the times: tech-house, minimal, dub –techno.

KUMQUAT is an imprint of the formerly worldwide known KumQuat Tunes label. It is part of a group of brands together with KumQuat Bookings agency and Triphaseproject (media & design agency) all successful projects implemented by Ondrej. KUMQUAT is a fresh platform which focuses on high quality electronic music compiling varied talented and credible producers of the world such as: BROOMBECK aka SIGNORE DITO, FRANCO CINELLI, KHAINZ, GREENBEAM & LEON, PRIME TIME, TOLIS Q, LOGIZTIK SOUNDS, EXERCISE ONE, SOUNDEXILE among others. The releases are on vinyl and digital format, supported by main references as: DUBFIRE, RICHIE HAWTIN, STEPHAN BODZIN, FORMAT B, SEPH, LEN FAKI, DAVID SQUILLACE, NICK WARREN, etc. Ondrej was and is requested as headliner on international stages and part of the line ups of massive events such as: STREET PARADE (Switzerland); LOVE PARADE, VUUV FESTIVAL, (Germany); SONAR (Spain, FETE DE LA MUSIQUE (France), RENAISSANCE (Russia); LES ENFANTS TERRIBLES (Indian Ocean); TERMINAL CLUB, LOUD MANSION (Greece); BATOFAR, LA SCENE BASTILLE (France); ROXY (Czech Rep); PRIVILEGE, SHAMROCK, KIKA, DORIAN GRAY, HAPPY SUNDAYS (Argentina); GOOD VIBES- SAMC (Uruguay) and many others clubs and parties.

Many DJs from different scenes have shared his decks, such as: SETY, ERNESTO FERREYRA, FRANCO CINELLI, PATRICK ZIGON, MOS, JORGE SAVORETTI, D-NOX & BECKERS, LUTZENKIRCHEN, PRIME TIME, KOOLT, UDOLPH, OLIVER KLEIN, CHAB, FRANCO BIANCO, CHRIS CARGO... In Switzerland: STYRO 2000, ANDRI, WANDLER to name some of the most featured producers of Zurich.

Frisky, Proton, DRS (Swiss National Radio) Radio FG, Dancelatinoamerica and Livebeats broadcasted Ondrej's sets. He also had reveled challenges of audience on his past "Dynamo Show" at Danceradio.gr and at his monthly live streaming "Ground Control" show at Audioasyl.net.